5 Tips for How to Grow a Window Cleaning Business
If you are looking for ideas for how to grow a window cleaning business, this article contains some tips for things that you can consider. Our advice is not to attempt to tackle all of these simultaneously, especially the marketing tips.
Growth is a long game. Read through these tips and discover some ideas that can work for you. If inspiration strikes, adapt these strategies to suit your specific needs and scenario. Not all window cleaning businesses are created equal and neither should their growth strategies.
These tips for how to grow a window cleaning business are not listed in any particular order.
1. Localize your marketing
For any window cleaning business, whether it's a small local enterprise or a multi-location or franchise business, localization is important. Your location and seasonal climate can factor in market demand and the types of cleaning you do. More importantly than that, however, it can help you to be found by potential customers.
Two ways to take advantage of localization in your marketing are SEO (search engine optimization) and SEM (search engine marketing). With SEO, the best tactic is to publish locally-specific information to help online searchers discover your services. Are there seasonal patterns to your geographic location that you can discuss?
Even something as simple as talking about enjoying a popular local view can be excellent fodder for localized content. Publish pages on your website with neighborhood-specific information to demonstrate your understanding of the area. You'll appease the search engine and also show the human searchers that you are very familiar with working in their areas. For SEM, bid on search terms that contain search terms with your local areas. For example, "window cleaning in Capitol Hill, Seattle."
Bonus tips: Make sure your Google Business Profile listing is up to date and pay attention to your online reviews. Also, you can combine your SEM and SEO strategy by linking your paid SEM ads to your localized organic website content.
2. Email Marketing
There are two kinds of window cleaning customers. Some order your services only a few times a year, either sporadically or seasonally. The better kind are the ones who subscribe to your service regularly and give you recurring revenue. For the customers in the first bucket, who order window cleaning sporadically, email marketing is an excellent tactic.
The idea is quite simple. When a customer orders your services as a one-off, add them to your mailing list. Then at regular intervals or when you have a seasonal offer or promotion, email your list to tell them all about it. These simple reminders can result in more repeat business from customers who might have otherwise shopped around again when it was time to call in the squeegees.
Bonus tip: Use email marketing to promote and extend offers for your subscription service. These emails can act like little sales conversations, promoting the value and benefits of long-term services.
3. Use Co-marketing to Access a New Customer Base
One way to access an entirely new customer base quickly is to partner with a similar, aligned business for some co-marketing. For example, let's say you have an idea for a spring cleaning promotion to find new customers. You can partner with a landscaping, junk removal, house painting business, real estate agent… there are many possibilities that would have access to the kinds of customers you want.
The agreement can be very simple. Both businesses agree to extend an offer; it could be a combined package or not; that's up to you and your partner. The magic happens when you both agree to promote these offers on your respective channels. Your email list, your social channels, and any other campaigns can include this higher-value offer. You gain exposure to their list of existing customers, and they get access to yours. Customers get access to a convenient, high-value offer and everybody wins.
The email marketing tip above works for existing customers, but co-marketing with other partners can expand your reach considerably without much extra effort.
4. Boost Your Local Area Marketing, AKA Your "Ground Game"
All of the above tips are for various ways you can boost your various digital marketing initiatives. When we say local area marketing, we refer to what home services marketing expert Geoff Henshaw calls your "ground game."
Here we are talking about your yard signs, door hangers, brochures, business cards, billboards and any other physical presence.
Geoff points out, "ground game, boots on the ground, local area marketing — whatever you call it, it is one of the highest ROI (return on investment) ways to rapidly build brand awareness. Even better, you can focus on your exact target market — the literal homes and owners you are looking to reach."
Read our article, written by Geoff, for a full list of tactics that can help you make more sales with your physical presence.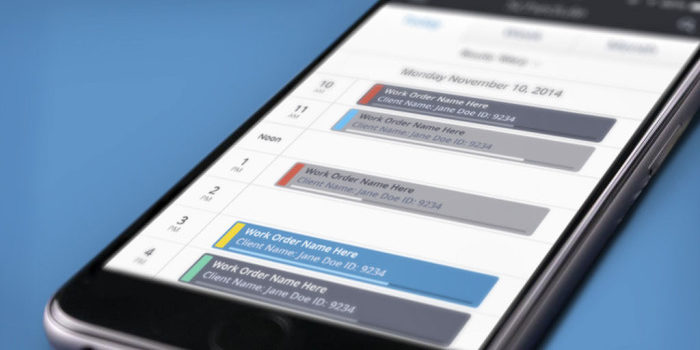 5. How to Grow a Window Cleaning Business by Reducing Operational expenses
It may seem like an obvious tip to say that you can grow your business by lowering your expenses, especially when it's not always clear how. Finding gains in efficiency can prove difficult, especially when you're very busy.
There are any number of areas of operation you can focus on, and our advice is to start with the biggest cost centers or "overhead." Do you have salespeople or office staff who make or take calls to close your bookings? Offering your customers an online booking option can reduce the overhead expenses of some bookings and expose you to a new type of customer.
Are your trucks completely booked? Finding a way to optimize the scheduling of your teams and fill their work days with jobs can help boost your profit per truck or employee. Even things like reducing drive times with route optimization or collecting cash from customers faster with online invoicing can improve your cash flow. The key with all of these is to have a way to measure them, and the best way to do that is with a software tool designed to suit the needs of a window cleaning business like yours.
Software to Help You Grow Your Window Cleaning Business
Curious about how to use window cleaning software to improve your company operations? Book a free, private demo of Vonigo, and we will show you how businesses like yours can unlock growth using software designed for your needs.